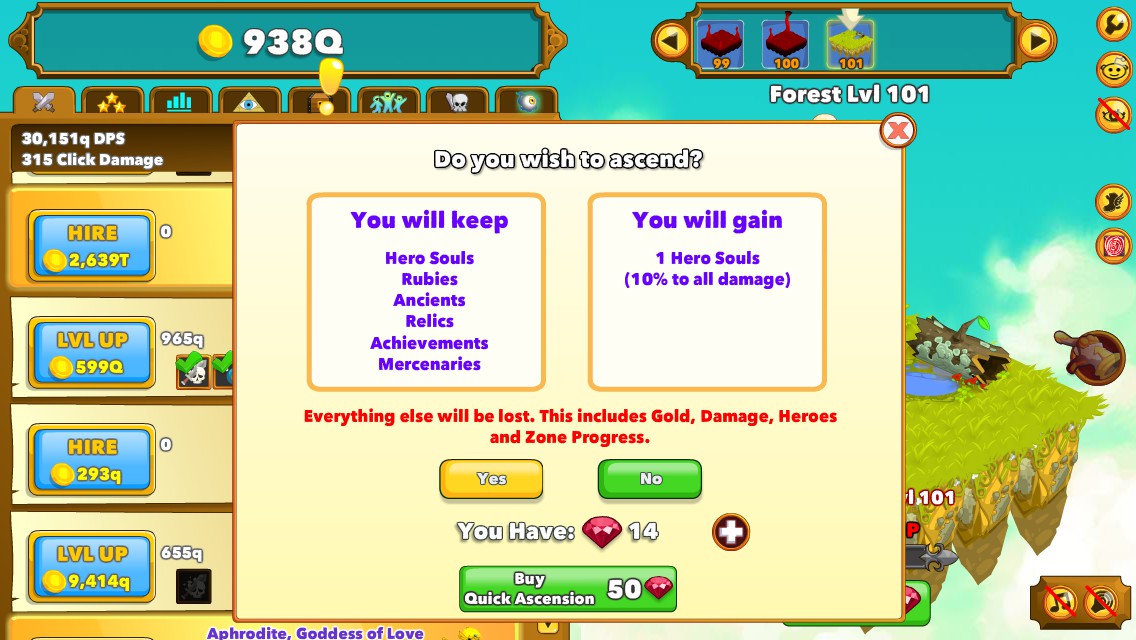 Clicker Heroes • Ascend the world 10 times
I feel like I might need to rename this blog Clicker Achievement a Day but no doubt that there is little difference between this and any other game that you get 'on a roll' with. I decided to abandon my post-transcending run to clean up some of the more mainstream achievements first, including today's effort which required me to transcend three times to unlock this achievement.
I can't quite pinpoint what the buff is that gives me greater damage, particularly in the DPS stats, but I have little difficulty flying through many of the early levels now, even without much intervention. Gold comes more quickly, damage is higher, and now that I've worked out how to auto-advance, I'm only required to check-in on the progress once every hour or two.
As a result, I was able to fast track much of the ascension just to earn enough to be able to set Amenhotep's level 150 ability up and pull the metaphorical trigger. Even at restart which would normally require me to build up a bit of a baseline before I could unlock the better DPS is gone … and what's better, is that now I've completed this achievement, I've earned an additional bonus 1k click damage from the start!
I'll make an effort to whip around some of my other clickers tomorrow just to check-in on them. I have no doubt that there's plenty of gold, teeth, or whatever commodity is being harvested ready to collect and spend.
Or, if the mood grabs me, I might have a session transcending in those games as well!