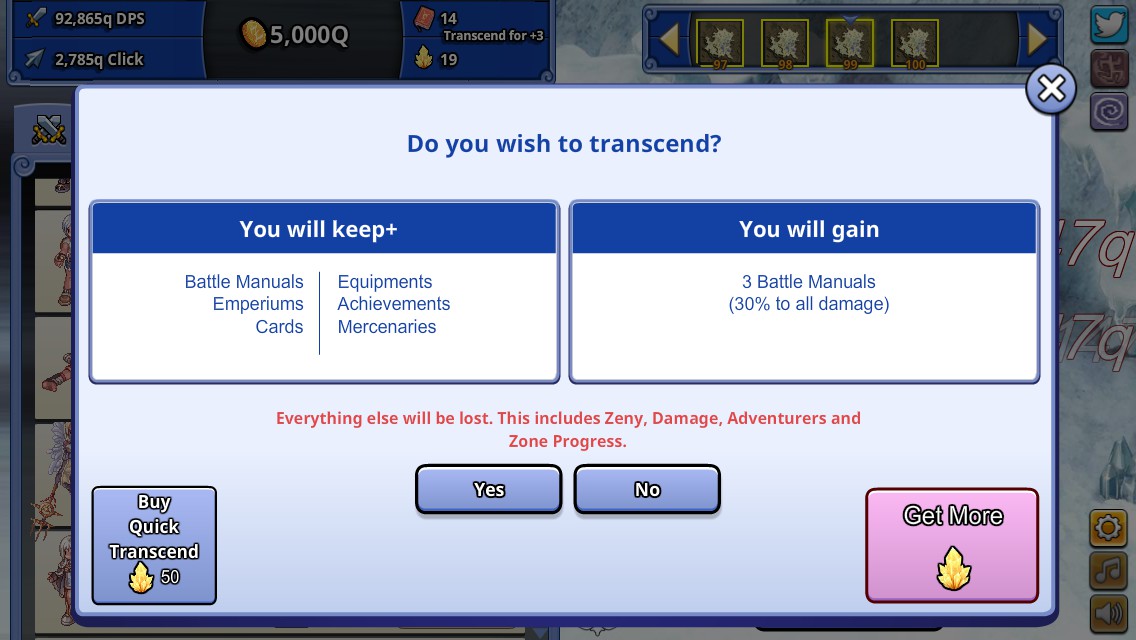 Ragnarok Clicker • Transcend the world 3 times
My addiction to transcension continues today, finally landing enough gold to transcend for a third time on Ragnarok Clicker. Having done a bit of a Google to understand how the concept of transcension works, I have a bit of a better idea now – the main concept being that transcending makes it easier to get to higher levels faster, surpassing them a little bit each time. It's a novel concept, and I haven't worked out the quickest path to achieve a good rate of return, but I like that I was able to learn a little more about a game format that I quite like.
This weekend is a free-play weekend for Wildlands on PS4, so I downloaded that overnight to see whether it's worth doing a Platinum-run on that. I spent some time this morning detaching my old PlayStation login from my Ubisoft Club (the old 'UPlay') account and adding on my new ID. I think I'm in a place now where I'm a little sad about seeing all those trophies go, and it feels more like a death than a divorce, but I think it's fair to say that Sony isn't going to do anything about it. Even if they patch in the use of a different field for usernames, it will forever be tied to your original, or legacy, username – and I'd rather something I'm happy with than something that has given me a touch of angst.
Otherwise, it's the freakin' weekend here, so I'm off to grab my Xbox achievement and then mix-it-up a bit between the rest of my gaming platforms.
So many games, such little time to play them.