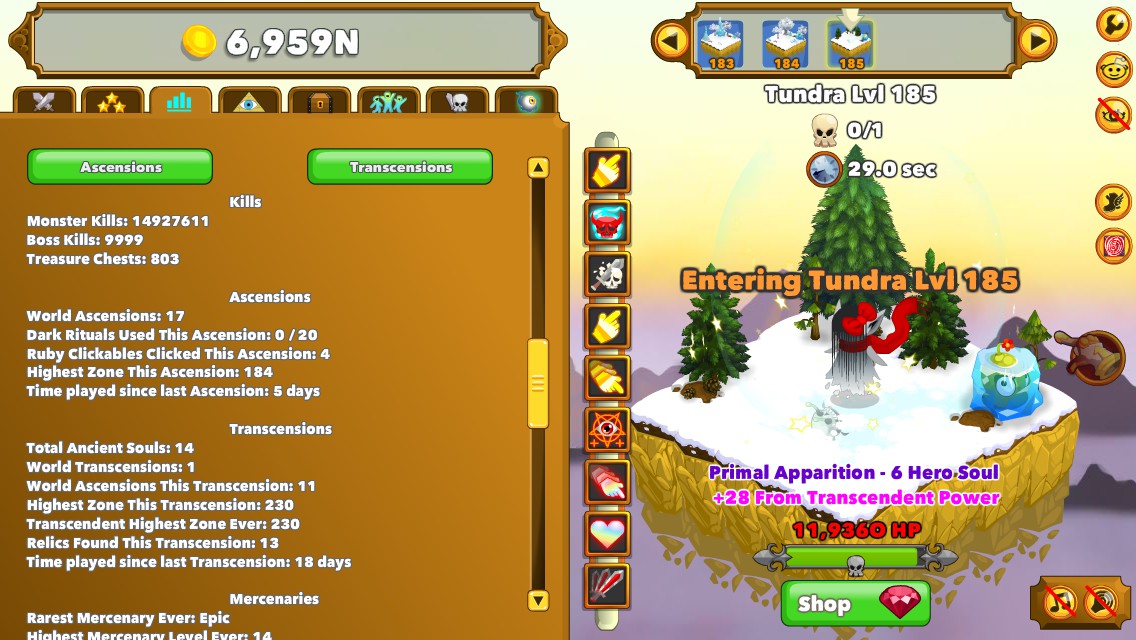 Clicker Heroes • Kill 10,000 bosses
Another one gone, and another one gone, another one bites the dust.
10,000. Ten. Thousand. By anybody's definition, I'd argue that's a not-insignificant number of kills for a game that thrives on continuous progress through an army of endless enemies looking to take you and your mouse pointer on for a good time, and I don't mean that in a good way.
It feels like a long time since I had a go at Clicker Heroes. In truth, it's been less than a week, but I've had quite a few distractions more broadly on-my-mind: a holiday away, doing chores, calling past the supermarket on the way home, those little things that all contribute to a happy, healthy home. Combine that with a bit of a busy period at work, my lunchbreaks have been short, sharp, and often at my desk … so some time to get in a quick gaming fix has been limited.
Not today though. Today, I darn well made the time.
Today was actually an achievement that required a bit of work. Nothing an onerous as having to click, but balancing out progress versus income versus trying to knock as many bosses over in one sitting versus … well, you get the idea. Needless to say, that it took some time and monitoring of the game's progress as it went from about 3,000 boss kills at the start of the day, through to the golden 10k needed to unlock this achivement. I am certain some die hard fans will be none-too-pleased with me with my approach of farming bosses for an hour or so, but as much as camping is a genuine strategy, as too is farming. Plus, who the heck wants to play long enough to get 10,000 bosses through normal gameplay?
One thing I haven't worked out is whether achievements in Clicker Heroes give you any initial perks. For example, in Ragnarok Clicker, earning a specific in-game achievement is usually tied to increased DPS or clicks, though Clicker Heroes seemed to just reward you with the achievement and then carry on with business as usual.
I guess we'll always have hero souls.
I'm about to wind-down for the weekend, and play something frivolous tonight for my Xbox achievement. I'm not sure what I'll run with yet, but this morning I was in the mood for racing, and now I'm in the mood for Batman … so it could be something entirely different by this evening. Time will tell. At least I can safely say that it won't be the new Avengers on the top of my list.